Futuristic Game Website Landing Page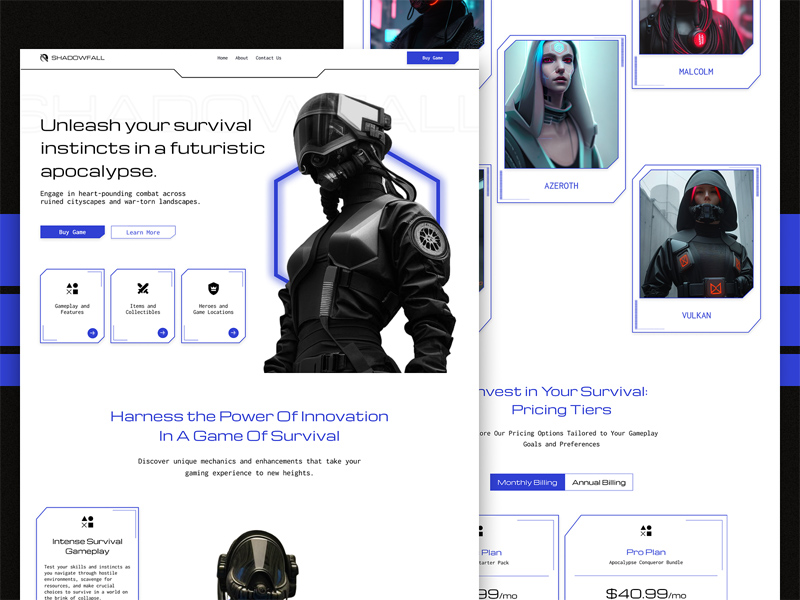 Creating a futuristic game website landing page can be an exciting project for designers. Here are some tips and considerations to help you design an engaging and visually appealing landing page for a game:
Visual Style: Consider the visual style of the game and incorporate it into the landing page design. Use colors, imagery, and fonts that reflect the game's theme and atmosphere.

Key Artwork: Showcase key artwork or visuals from the game prominently on the landing page. This can give visitors a glimpse of the game's world and characters.

Gameplay Elements: Highlight key gameplay elements that make the game unique. Use animations, graphics, or icons to represent features like multiplayer modes, character customization, or unique mechanics.

Call to Action (CTA): Include clear and compelling CTAs to encourage visitors to take action, such as downloading the game, signing up for updates, or watching a trailer. Use contrasting colors for CTA buttons to make them stand out.

Game Trailer: Embed a game trailer video that provides an overview of gameplay, graphics, and story. Ensure that the video is high-quality and captivating.

Feature List: Create a visually appealing list or grid of key features and game mechanics. Use icons or illustrations to represent each feature and keep descriptions concise.

Responsive Design: Design the landing page to be responsive so that it looks and functions well on various devices, including desktops, tablets, and smartphones.

Scrolling Experience: Consider creating a one-page scrolling experience where visitors can learn about the game as they scroll down. Use parallax effects or smooth scrolling to add depth to the page.

Storytelling: Craft a compelling narrative or backstory for the game and share it on the landing page. Engaging storytelling can capture visitors' interest.

Social Proof: If available, showcase positive reviews, awards, or endorsements from players or the gaming community to build trust.

Countdown Timer: If applicable, include a countdown timer to build anticipation for an upcoming game release or event.

Newsletter Signup: Encourage visitors to subscribe to newsletters or updates to stay informed about the game's development and releases.

Community Links: Provide links to the game's social media profiles, forums, or Discord channels to connect players and build a community.

Interactive Elements: Consider adding interactive elements like hover effects, sliders, or mini-games to engage visitors.

Performance Optimization: Optimize images and assets for fast loading times. Slow-loading pages can deter visitors.

Feedback and Testing: Collect feedback from potential players or conduct usability testing to ensure that the landing page effectively conveys the game's appeal.

Legal Information: Include essential legal information such as privacy policies, terms of service, and age restrictions, especially if the game is for mature audiences.

Contact Information: Provide contact information or a contact form for inquiries and support.

Analytics: Implement website analytics tools to track visitor behavior and make data-driven improvements to the landing page.

Regular Updates: Keep the landing page updated with the latest game information, events, and releases.
Remember that a well-designed landing page should not only look impressive but also guide visitors toward taking specific actions, such as engaging with the game or joining the community. By considering these design principles and user experience factors, you can create a captivating landing page that resonates with gamers and potential players.