AI-Assisted Education Platform Landing Page (Scholarly)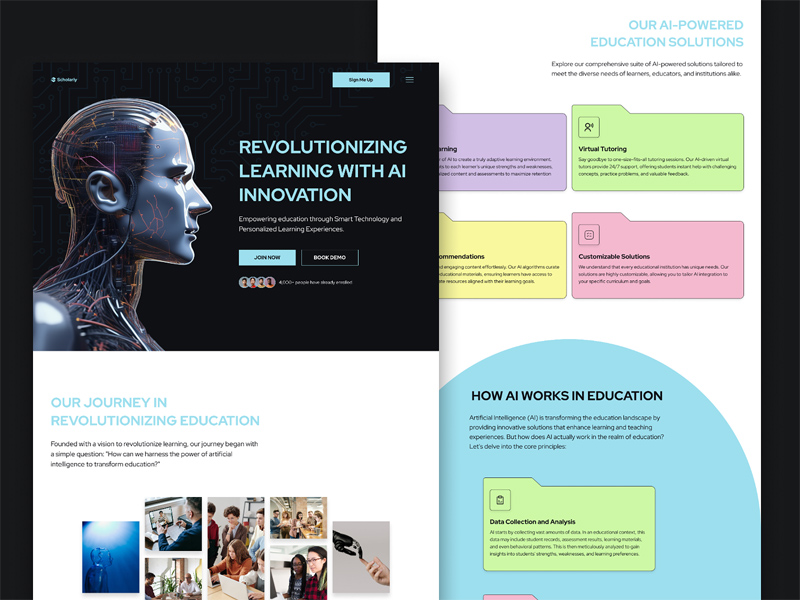 A landing page template for a provider of AI-powered education solutions is a valuable resource for businesses and organizations in the education and technology sector. Landing pages play a crucial role in attracting and converting potential customers or users. They serve as the entry point for visitors interested in a particular product or service, and they often aim to encourage specific actions, such as signing up, requesting information, or making a purchase.
Here are some key elements and features you might find in such a landing page template:
Headline and Subheadline: A compelling and concise headline that communicates the core value of the AI-powered education solutions. The subheadline provides additional context.

Hero Image or Video: A visually appealing element, such as an image or video, that showcases the AI-powered education platform in action.

Key Features: Sections that highlight the main features and benefits of the AI solutions. This might include personalization, interactive learning, data analytics, and more.

Testimonials: User testimonials or success stories that build trust and credibility by showcasing the positive experiences of others.

Call to Action (CTA): Clear and prominent CTAs that prompt visitors to take action. This could be to sign up for a trial, request a demo, or explore the solutions further.

Pricing Information: If applicable, pricing details or packages for different types of users or institutions.

About the Company: A brief overview of the company, its mission, and its commitment to transforming education through AI.

Contact Information: Ways for visitors to get in touch or request more information, including a contact form and contact details.

Frequently Asked Questions (FAQ): A section that addresses common queries and concerns from potential customers.

Blog or Resources: Links to additional resources, articles, or a blog that provides valuable information and insights related to AI in education.
The combination of a friendly and approachable design with a futuristic look is an effective way to convey that the solutions are both cutting-edge and user-friendly.
Landing pages, like the one designed by Clare Brito, serve as a critical part of a digital marketing strategy, and they should be optimized for conversion and user engagement. They allow businesses to capture leads, provide information, and guide visitors toward becoming customers or users of their AI-powered education solutions.