Technology Icons File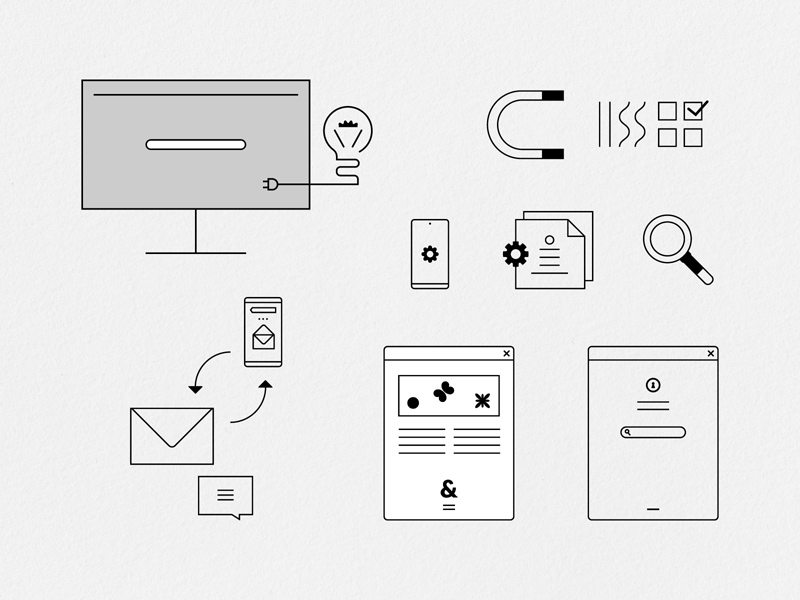 Using outline icons is a common and effective way to visually represent various technology-related concepts and elements. These icons serve several purposes, such as improving user experience, providing clarity, and enhancing the overall aesthetics of websites, apps, and other media. Here are some key benefits and uses of technology outline icons:
Clarity and Recognition: Outline icons provide a clear and recognizable visual representation of technology-related concepts. Users can quickly understand the meaning of each icon, even without accompanying text.

User Experience: Icons contribute to a better user experience by making interfaces more intuitive. Users can easily navigate websites and apps, aided by these visual cues.

Space-Efficiency: Outline icons are typically compact and take up less space compared to detailed illustrations. This is especially important in responsive design for mobile devices.

Consistency: Icons help maintain a consistent visual language throughout a project. When a set of icons follows a similar style, it creates a cohesive and professional look.

Cross-Platform Compatibility: Technology outline icons are vector-based, making them easily scalable and adaptable for various platforms and screen sizes.

Enhanced Aesthetics: Icons can contribute to the overall aesthetics of a design. A well-designed set of icons can make a website or app look more appealing and modern.

Conciseness: Icons can replace lengthy text descriptions, keeping interfaces uncluttered and reducing cognitive load for users.

Universal Understanding: Technology outline icons can often transcend language barriers, making them suitable for global applications.
When using technology outline icons, consider these best practices:
Consistency: Maintain a consistent style, line thickness, and visual language throughout your icon set.

Accessibility: Ensure that icons are clear and easily distinguishable for users with different abilities. Use alt text or labels when necessary.

Context: Icons should be used in context, where their meaning is apparent. If there's ambiguity, consider using tooltips or labels.

Usability Testing: Validate your icon choices with usability testing to confirm that users understand their meanings.

Scalability: Design icons in vector format for scalability without loss of quality.
Technology outline icons are a valuable resource for designers and developers, helping to communicate complex technology-related ideas with clarity and visual appeal. They are widely used in user interfaces, infographics, presentations, and other digital and print materials to enhance communication and user experience.