Gadgets Ad PSD Templates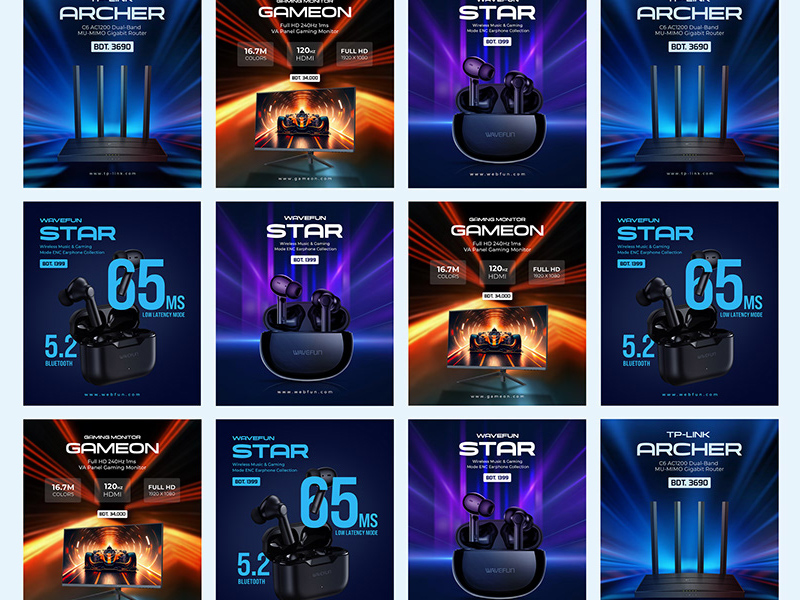 Using social media banners to promote gadgets and technology products is a smart marketing strategy, especially when targeting tech enthusiasts and potential customers. Here are some key reasons why these banners are effective for gadget advertising:
Visual Appeal: Social media banners are highly visual, making them ideal for showcasing the design, features, and functionality of gadgets. High-quality images and graphics can be used to capture the attention of the audience.

Engagement: Gadgets often have a strong visual appeal, and social media banners allow for interactive and engaging content. You can create eye-catching animations, videos, or interactive elements to keep users engaged.

Informative: Banners provide a limited space for information, which encourages concise and effective communication. You can highlight key features, specifications, and benefits of gadgets in a succinct manner.

Call to Action (CTA): Banners can include compelling CTAs that encourage users to take specific actions, such as "Shop Now," "Learn More," or "Get Yours Today." These CTAs can drive traffic to product pages or online stores.

Platform Compatibility: Social media banners can be customized for different social media platforms, such as Facebook, Instagram, Twitter, and LinkedIn. This ensures that your gadget advertisements are optimized for each platform's requirements.

Targeting: Social media advertising platforms allow you to target specific demographics, interests, and behaviors. You can tailor your gadget banners to reach the most relevant audience, such as tech enthusiasts or specific age groups.

Feedback and Insights: Social media advertising provides valuable data and insights into banner performance. You can track metrics such as click-through rates, impressions, and conversions to refine your advertising strategy.

Storytelling: Banners can tell a compelling story about your gadgets. You can create a narrative that highlights the problem-solving capabilities of your products and how they enhance users' lives.

Branding: Consistent use of branding elements, such as logos and color schemes, in your banners helps build brand recognition and trust among your audience.

Promotions and Discounts: Banners are effective for promoting special offers, discounts, and limited-time deals on gadgets, encouraging users to make purchasing decisions.

Feedback and Reviews: User-generated content, such as positive reviews or user testimonials, can be incorporated into banners to build trust and credibility.

Responsive Design: Banners should be designed to be responsive, ensuring they display correctly on various devices and screen sizes, from smartphones and tablets to desktops.

Localization: For international audiences, banners can be localized by translating text and adapting imagery to suit different regions and languages.
When creating social media banners for gadget advertising, it's crucial to focus on high-quality visuals, compelling messaging, and user engagement. Experiment with different banner designs, ad copy, and targeting strategies to optimize your campaign's performance and reach your target audience effectively. Additionally, staying up to date with the latest technology trends and social media advertising features is key to staying competitive in the tech industry.