Answerly – Answers App Concept for Adobe XD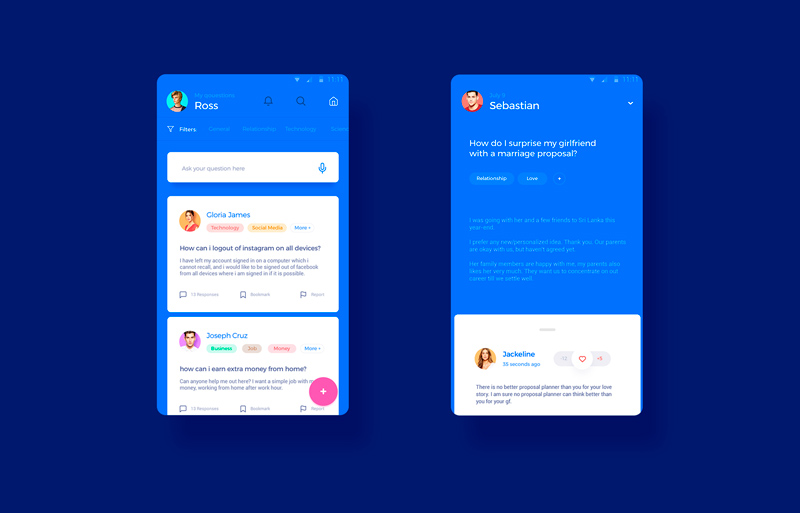 Delighted to unveil my inaugural Adobe XD design with all of you.
Presenting a contemporary and lively answers app concept tailored for Android, crafted by the talented Aryana Shakibaei. This Adobe XD freebie showcases a brilliant implementation of Material Design principles, contributing to the overall aesthetic and user experience.
This concept brings a fresh perspective to the world of app design, combining modernity with vibrancy. Designed to cater to users seeking answers, this app concept offers a glimpse into the potential of engaging and user-friendly interfaces.
Credit and appreciation extend to Aryana Shakibaei for generously sharing this Adobe XD freebie. By providing this design, Aryana Shakibaei contributes to the design community's growth and inspires others to explore and experiment.
Key highlights of this answers app concept may include:
A contemporary interface design that adheres to Material Design guidelines.
A visually appealing and user-centric approach, enhancing the app's usability.
Utilization of Adobe XD, a popular tool for user interface and user experience (UI/UX) design.
To experience this Adobe XD freebie:
Download the design files shared by Aryana Shakibaei.
Open the files in Adobe XD to explore the interface and design elements.
Analyze the design decisions, color scheme, typography, and overall layout.
Gather insights and inspiration for your own design projects, learning from the implementation of Material Design principles.
Appreciate the creative thinking and innovation that Aryana Shakibaei has demonstrated in this app concept.
By engaging with this Adobe XD design, you can learn from the design choices, gather inspiration, and celebrate the creativity of Aryana Shakibaei. This freebie encourages designers to experiment, share, and collaborate within the design community.