Sleep Sounds App UI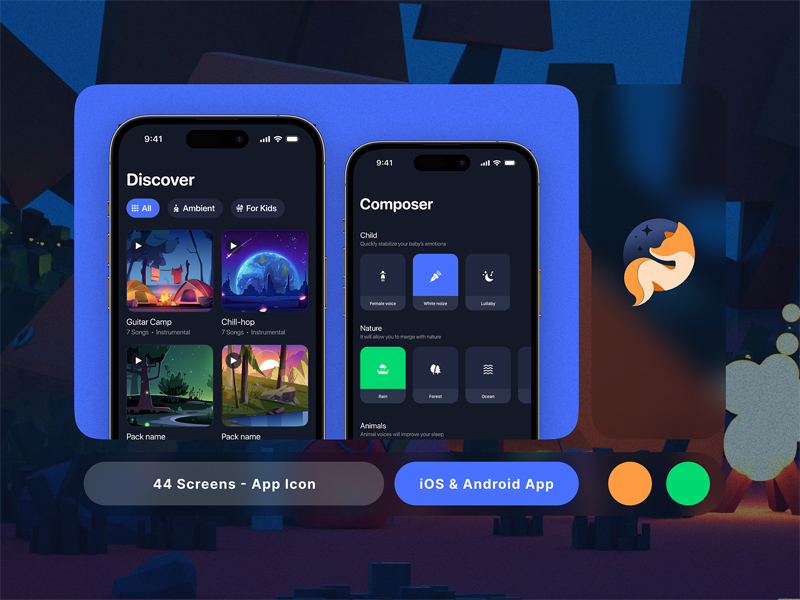 The UI kit designed by Ulad Luch for an app concept focused on soothing sounds is a remarkable tool for app developers and designers aiming to create applications that promote sleep and relaxation. The design of this UI kit stands out due to its calming and minimalist aesthetic, which aligns perfectly with its purpose of aiding relaxation and tranquility.
Key features of this UI kit include:
Calming Color Palette: The use of gentle hues in the design helps evoke a sense of calm and relaxation, which is essential for an app that aims to aid in sleep or provide soothing experiences throughout the day.

Straightforward Illustrations: The simplicity of the illustrations contributes to the minimalist feel of the app, ensuring that the user interface is not overwhelming or distracting. This is particularly important for an app designed to promote relaxation.

Ease of Use: The UI kit likely emphasizes intuitive navigation and ease of use, ensuring that users can access and enjoy the soothing sounds without any hassle or confusion.

Customization Options: Users might have the ability to customize their experience, such as choosing different sounds or setting timers, enhancing the app's versatility and appeal.

Responsive Design: Considering the variety of devices used today, the UI kit is probably crafted to be responsive, providing a seamless experience across smartphones, tablets, and other devices.
Ulad Luch's decision to offer this UI kit as a Figma freebie is a commendable contribution to the design community. It not only showcases his skills and creativity but also provides a valuable resource for other designers and developers. This gesture supports the collaborative nature of the design community, allowing others to learn from and build upon his work.
The UI kit's focus on creating serene experiences is timely and relevant, given the increasing interest in mindfulness and relaxation techniques in today's fast-paced world. It offers a practical solution for users seeking to incorporate moments of tranquility into their daily routine.