Taxi Booking App UI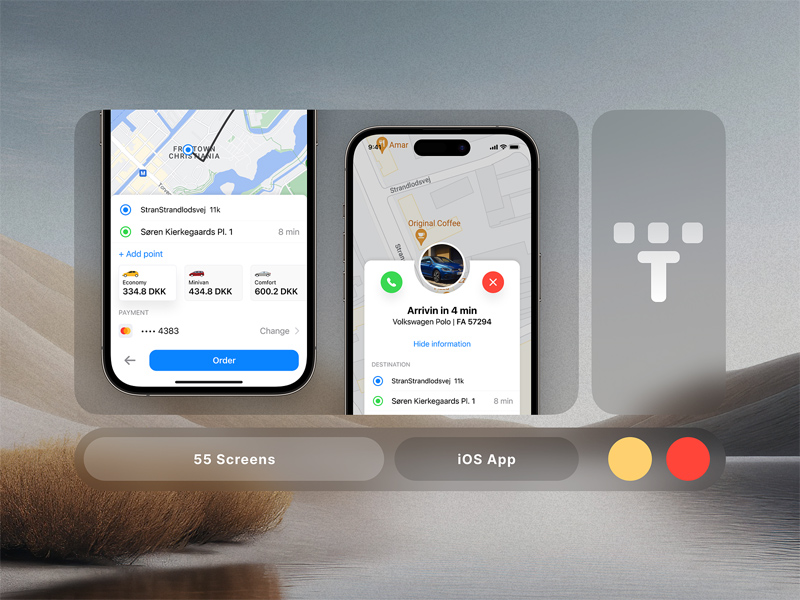 The taxi booking app UI designed by Ulad Luch is an excellent example of user-centric design, emphasizing ease of use and intuitive navigation. The main objective of this UI kit is to streamline the process of locating and booking taxis, a task that is often time-sensitive and requires a high level of efficiency.
Key aspects of this UI kit include:
Intuitive Interface: The design likely focuses on making the app's interface as intuitive as possible, allowing users to easily understand how to book a ride. This could include clear icons, simple menus, and an easy-to-navigate layout.

Quick Location and Ride Booking: The app probably offers a straightforward way to locate taxis in real-time and book rides with just a few taps. This might involve an interactive map, real-time updates of taxi locations, and a simple booking process.

User-Friendly Features: Features such as saved locations, ride history, and estimated fare calculators are typical inclusions in such apps, enhancing the user experience.

Responsive Design: Given the diverse range of devices used today, the UI kit is likely optimized for various screen sizes, ensuring a consistent experience across different platforms.

Attractive Aesthetics: Alongside functionality, the aesthetic appeal of the app is crucial. The UI kit probably employs a color scheme and typography that are visually appealing yet non-distracting, contributing to a pleasant user experience.
Ulad Luch's decision to share this UI kit as a Figma freebie is a significant contribution to the design community. By making it freely available, he enables other designers and developers to access high-quality resources, fostering learning and innovation in the field. This kind of sharing is invaluable in the tech and design communities, as it encourages collaboration and the exchange of ideas.
In a world where convenience and efficiency are highly valued, such a well-designed taxi booking app UI kit is not only a testament to thoughtful design but also a valuable tool for any developer looking to create or improve a ride-hailing service. This UI kit would be an excellent starting point or source of inspiration for creating an effective, user-friendly taxi booking app.