Groceries Delivery App UI Kit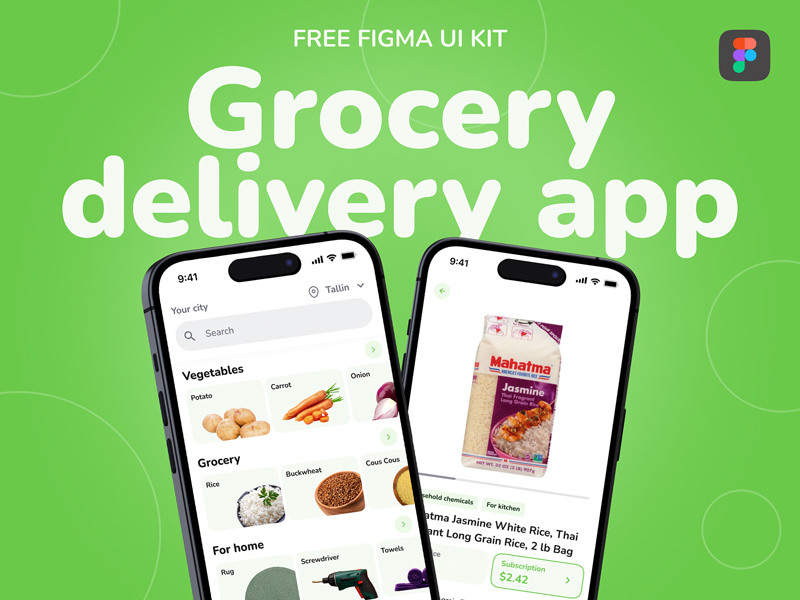 A UI kit for a groceries delivery app is a valuable resource for designers and developers looking to create user-friendly and visually appealing mobile applications in the grocery delivery space. This type of UI kit typically includes a range of pre-designed screens, components, and elements that are tailored to the specific needs and user flows of a grocery delivery app.
Key features and components you might find in such a UI kit could include:
Product Listings: Pre-designed screens for displaying grocery items, including images, product descriptions, prices, and availability status.

Shopping Cart: Templates for users to add items to their cart, view the contents, adjust quantities, and proceed to checkout.

Checkout Process: Screens for inputting delivery details, payment information, and order confirmation.

User Profile: Sections for users to manage their account information, addresses, and order history.

Navigation: A user-friendly navigation menu or interface that allows customers to explore different product categories and sections of the app.

Search and Filters: Tools for users to search for specific items and apply filters to narrow down product choices.

Notifications: Templates for order status updates, delivery confirmations, and promotional messages.
Figma is a popular platform for designing user interfaces and collaborative design, and UI kits like the one you mentioned can significantly expedite the app design and development process. Designers and developers can customize these pre-designed components to match the branding and unique features of the specific grocery delivery app they are working on.
Sharing such UI kits as freebies benefits the design community by making it easier for individuals and businesses to create functional and visually appealing apps. It's a testament to the spirit of collaboration and knowledge sharing within the design and development field. Thanks to designers like Miura One for contributing to this community and making app development more accessible.