Architecture Website Template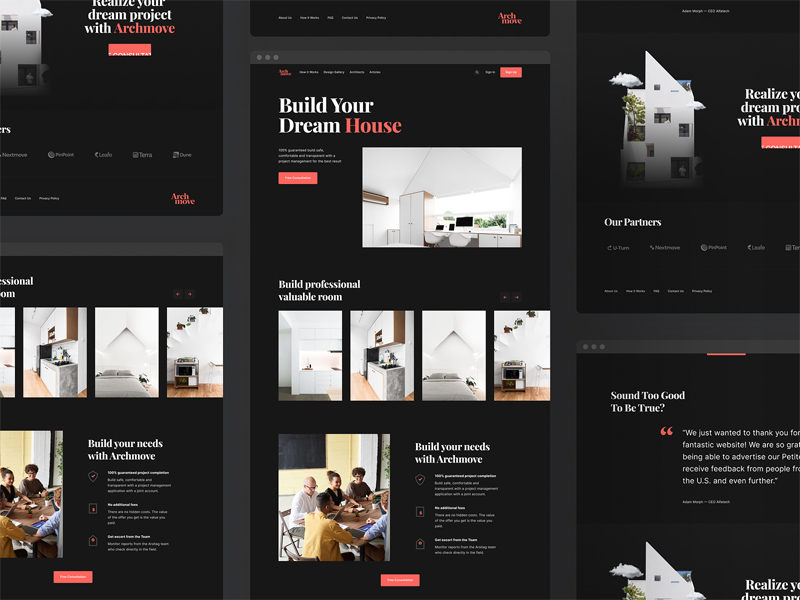 Presenting a meticulously crafted landing page template tailored for architectural firms. This template serves as an impressive online showcase, effectively spotlighting the architectural firm's portfolio and range of services. Its design exudes professionalism, offering a polished and captivating online presence that resonates with the architectural industry's aesthetics.
Designed with a keen attention to detail, this landing page template seamlessly integrates the firm's projects and services, allowing visitors to gain an insightful glimpse into the company's expertise. The template's layout is optimized to engage visitors, enabling them to explore the showcased work and offerings effortlessly.
Credit goes to Morva Labs for generously sharing this exceptional website template for architects. By leveraging this template, architectural firms can establish a strong and visually appealing digital footprint that aligns with their brand identity and industry standards.
The landing page template's features may include:
A visually appealing and responsive design.
A dedicated section for showcasing the firm's portfolio, highlighting past projects and architectural achievements.
A detailed presentation of the range of services provided by the architectural firm.
Interactive elements that encourage visitor engagement, such as call-to-action buttons and contact forms.
Strategic placement of imagery and graphics that enhance the user experience.
To utilize this template:
Download the template files provided by Morva Labs.
Customize the template with your architectural firm's branding elements, logo, color scheme, and content.
Insert your projects' images and descriptions to create an engaging portfolio section.
Ensure that the template's layout and design elements align with your firm's aesthetic and objectives.
Test the responsiveness of the template across various devices to ensure a seamless user experience.
By leveraging this free landing page template for architects, your firm can establish a strong online presence that not only showcases your work but also effectively communicates your services to potential clients and collaborators.