Frame Mockups PSD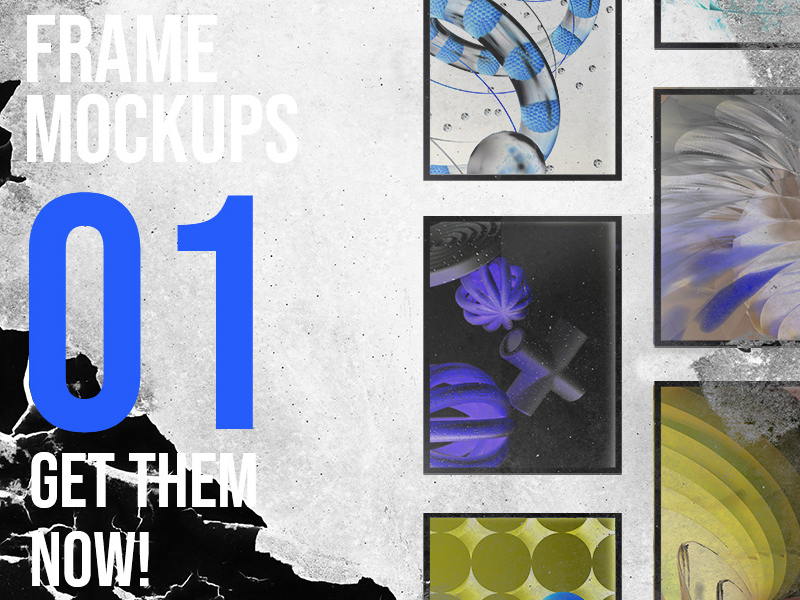 Frame mockups are valuable tools for presenting various design projects, such as artwork, posters, photographs, and more, in a realistic and visually appealing manner. Here are some key benefits of using frame mockups:
Realistic Presentation: Frame mockups provide a realistic context for your designs, allowing clients and customers to envision how your work will appear in a frame.

Visual Appeal: The aesthetic presentation of your designs in a frame can enhance their overall appeal and make them more engaging to viewers.

Professional Showcase: Using frame mockups gives your portfolio or design presentations a professional touch, which can leave a positive impression on potential clients.

Customization: Frame mockups often allow for easy customization, such as adding your artwork or changing the frame's color and texture to match your design.

Variety: There are various types of frame mockups available, including different frame styles, sizes, orientations (portrait or landscape), and settings (e.g., hanging on a wall, sitting on a desk).

Time and Cost-Efficiency: Instead of physically framing and photographing your designs, frame mockups save you time and resources.

Feedback and Marketing: You can use frame mockups to seek feedback on your designs from clients or to promote your artwork on your website, portfolio, or social media.
When using frame mockups, it's essential to consider the following:
Resolution: Ensure your design or image fits the mockup's dimensions and resolution to maintain a high-quality presentation.

Consistency: Match the frame style, color, and texture to the overall aesthetic of your design for a cohesive look.

Use of Smart Objects: Many frame mockups are available in PSD format and include smart objects for easy insertion of your artwork.

Realism: Pay attention to lighting, shadows, and perspective to create a convincing and lifelike presentation.
Frame mockups are versatile and widely used by graphic designers, artists, photographers, and businesses to showcase their work and attract potential clients. They can be an essential part of an effective design portfolio or marketing strategy.